Our strategy for growing our mining business is based around three pillars: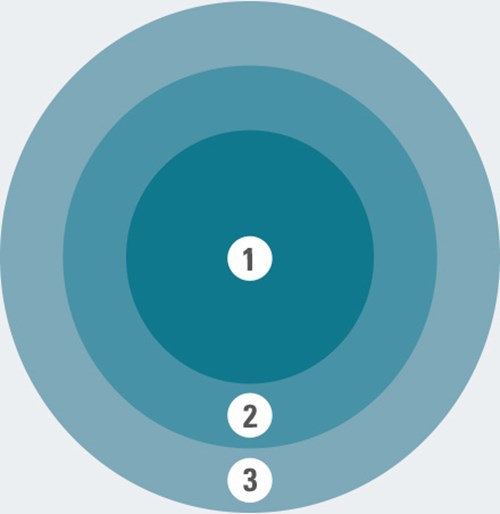 1

THE EXISTING CORE BUSINESS

Embed the Safety Model across all operations to acheive zero fatalities
Implement the Cost and Competitiveness Programme ("CCP") to improve performance and competitive position
Integrate Zaldivar, focusing on capturing potential synergies
Proactive and inclusive approach with communities and other stakeholders to strengthen sustainable development

2

ORGANIC AND SUSTAINABLE GROWTH OF THE CORE BUSINESS

Advance projects under construction: Encuentro Oxides and the molybdenum plant at Centinela
Continue to advance the Group's main brownfield projects: Los Pelambres Incremental Expansion and Centinela Second Concentrator

3

GROWTH BEYOND THE CORE BUSINESS

Work to develop the long-term growth pipeline beyond our existing operations
Monitor the current market environment to assess potential value accretive acquisitions or joint ventures
The first pillar of the strategy for the mining division is to optimise and enhance its existing core business: Los Pelambres, Centinela, Antucoya and Zaldívar.
2015 in Review
The Group regrets that there has been one fatality this year. The Group is convinced that the Safety Model introduced in 2014 is the right approach and will keep on working with employees, contractors and suppliers to ensure the effective implementation of the critical controls associated with this model
Copper production of 630,300 tonnes is approximately 10% lower than guidance issued at the beginning of 2015
Group net cash costs for the full year 2015 of $1.50/lb, in line with initial guidance for the year. During 2015, the Group implemented a corporate initiative to improve its competitive position and to achieve structural cost savings. The Cost and Competitiveness Programme ("CCP") has four areas of focus: services productivity, operational & maintenance management, corporate & organisational effectiveness and energy efficiency. In 2015, the CCP achieved $150 million in cost savings
Michilla put on care and maintenance at the end of 2015
Objectives for 2016
Zero fatalities. Improve safety standards through strengthening application of the safety model
Copper production of 710-740,000 tonnes (including 50% of Zaldivar), while reducing cash costs before by-product credits to $1.65/lb from $1.81/lb in 2015
Continue working on the capture of newly identified savings, aiming to add $160 million of cost reductions this year
The second pillar of the strategy is to achieve sustainable, organic growth from further developing the areas around the Group's existing asset base in Chile: Encuentro Oxides, Centinela Molybdenum Plant, Los Pelambres Incremental Expansion and Centinela Second Concentrator.
2015 in Review
Antucoya started production in September and ramp-up reached 58% of plant design capacity by the end of the year
Advanced Encuentro Oxides pre-stripping and commenced construction of processing facility. Started construction of the molybdenum plant at Centinela
Completed environmental baseline study and advanced engineering and EIA studies for the use of sea water in the Los Pelambres Incremental Expansion project
Completed the pre-feasibility study for the Centinela Second Concentrator and started the feasibility study. Submitted EIA for approval
Completed installation of secondary and tertiary crushers at Centinela Concentrator
Objectives for 2016
Reach design capacity and stabilise all key performance indicators to achieve 2016 production plan
Advance construction of Encuentro Oxides and Molybdenum Plant, but at a slower rate than originally planned, to reduce expenditure in 2016. Completion expected in 2017
Submission of Environmental Impact Assessment ("EIA") for Los Pelambres Incremental Expansion project and advance feasibility study for completion in 2017
Advance Centinela Second Concentrator feasibility study for completion in 2017. EIA approval expected in 2016
Reach throughput capacity of 105,000tpd
The third pillar of the strategy is to seek growth beyond the Group's existing operations – both in Chile and internationally. The focus is on potential acquisitions of high-quality operating assets and high-potential early-stage developments.
2015 in Review
The acquisition of 50% of Zaldívar is a major milestone in the history of the Group and the first acquisition of an operating company since the acquisition of Michilla in 1980
Continued international exploration programme with existing and new joint venture partners
Consolidated full ownership of the Twin Metals project and advanced optimisation studies
Objectives for 2016
Contribute 50–55,000 tonnes to Group production and increase thereafter. Fully integrate Zaldívar into the Group's operating practices
Continue current exploration programmes. Identify potential new growth opportunities in Chile and abroad
Continue with optimisation of the Twin Metals project and advance the permitting process