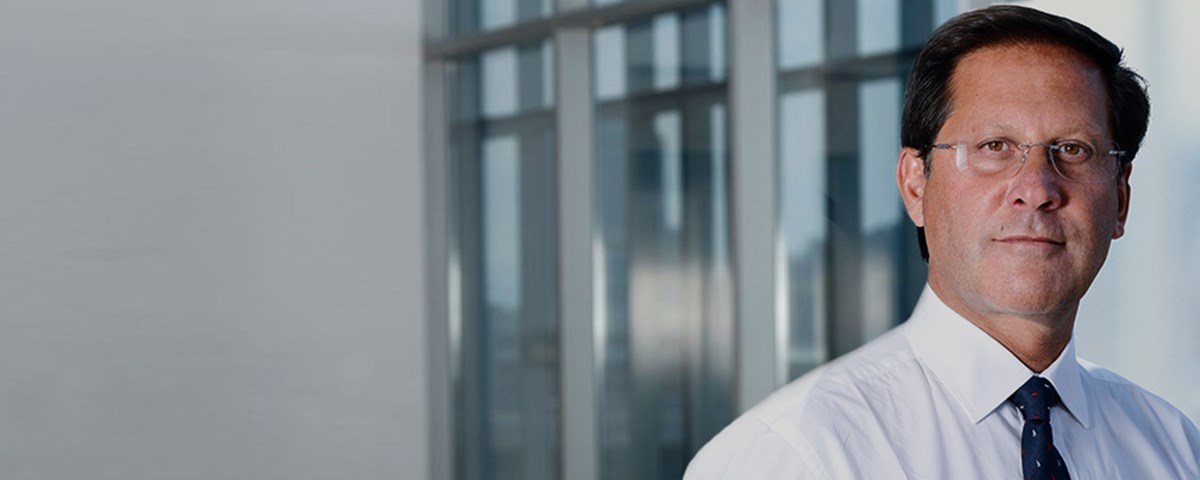 You took over as CEO in 2016 – how would you describe your first year?
It has been an exciting year, both for me personally and for the Company. Taking over as CEO of Antofagasta was a very proud moment for me. Since taking up the role I have been working hard with the team at
Antofagasta, putting people and safety first, focusing on improving our operating efficiency and rebasing our cost structure. I am convinced that improvements in productivity are key for the long term success of the Company and that we should regard them as an on-going process and part of the culture of Antofagasta.
We will always look for ways to improve what we do, irrespective of the copper price environment. In addition, we progressed down a path of constructive and transparent engagement with the communities around Los Pelambres, resolving the court cases relating to the Mauro tailings dam, overcoming what has been a very important challenge to us. This confirmed our belief that we can drive value creation for us and our stakeholders by the way in which we address and find solutions to social and environmental challenges. One of the things that first attracted me to Antofagasta was its long history of entrepreneurialism. The Company has grown from a single mine site at Michilla into one of the world's largest copper producers and a major contributor to Chile's economy. We still seek opportunities for innovation and 2016 saw us work hard to improve our operations, sustainably reducing costs and maximising the extraction of profitable tonnes.
While there is more to do, I'm pleased with what we've achieved in 2016. Costs have come down, productivity and efficiency has improved and our copper production rose. Against a challenging backdrop we've maintained our focus on sustaining the foundations of our business that underpin our ability to provide stable, long-term returns to our shareholders.
What were the operating highlights during the year? Can you talk us through some of the numbers for 2016?
I think it was in 2016 that we really started to see the underlying performance of our operations begin to come through in our production numbers as we achieved copper production of 709,400 tonnes, an increase of 12.5% compared to 2015. While this was in part driven by higher production at Centinela, it also reflected development milestones being achieved at Antucoya and the full integration of Zaldívar. Importantly Antucoya reached full production capacity during 2016 with significant progress with the dust issues having been achieved and Zaldívar contributed its first full year of production, adding to the Group 51,700 tonnes of copper cathode production during the year.
At Los Pelambres production fell slightly versus 2015, primarily due to lower throughput as a greater proportion of harder ore was processed in the plant. For me, this reduction in ore quality underlines the real need to focus on operating improvements and productivity, which are the key drivers behind Antofagasta's efforts to reduce costs sustainably and consistently into the future.
Occasionally, this means we have to make tough choices. As you know, during the year a significant forecast construction cost overrun was announced at the Alto Maipo hydroelectric project, in which Los Pelambres held a 40% interest, at a time when long-term electricity prices in Chile had been falling dramatically. We reviewed our options and concluded that it would be best for Antofagasta if we disposed of our interest to benefit from lower future sustainable energy costs for Los Pelambres.
Actions like these are part of our efforts to bring down the cost base. And the success of our decision to concentrate the Group's efforts in 2016 on operating and capital cost control has been another highlight of the year. Improved productivity and efficiencies have also begun to bear fruit. As a result of our efforts on costs, combined with increased production and lower input prices, we've been able to reduce our net cash costs by 20% year-on-year, to average $1.20/lb in 2016.
Away from our core copper production, gold production was 270,900 ounces, 26.6% higher than in 2015, reflecting better grades and throughput at Centinela. Additionally, as expected, molybdenum production saw a 3,000 tonne decrease for the full year as grades and recoveries fell. Our transport division saw increased customer demand and improved performance of the rolling stock and better fleet utilisation, all contributing to a 6.3% increase in transported volume to 6.5 million tonnes.
The Board has recommended a final dividend for the year of 15.3 cents per share, bringing the total dividend for the year to 18.4 cents per share or $182 million. This represents a total pay out ratio of 53% of net earnings, significantly in excess of the Company's policy of paying out a minimum of 35% of underlying net earnings.
We hear a lot from mining companies on the subject of innovation – how has Antofagasta added value through innovation?
We have been making some important progress over 2016 which are associated to real innovation. As I said earlier the entrepreneurial spirit is a core element of Antofagasta's character. Let me provide you with a couple of recent examples where our innovations  have improved plant efficiency and saved money.
At Centinela we have finally commissioned three new paste thickeners, which represent a new water saving technology on the biggest scale yet seen in copper mining. They play a big role, not only in improving our efficient use of water, but also enabling us to run the plant at our new increased throughput capacity of 105,000 tonnes per day.
Elsewhere we have been working on developing partnerships with technology and specialist engineering companies to improve our training and safety systems. At Antucoya we have been trialling a state-of-the-art 360˚ training simulator for operators of our trucks, shovels and other mining equipment with the aim of eliminating accidents through loss of vehicle control. We've also installed Collision Alert Systems in all of our mining trucks at Centinela and Antucoya and will roll this out across the rest of the operations in 2017.
These are just a few of the ways that we are deploying new technologies and procedures to reduce our running costs, boost plant uptime and improve safety across our operations.
How do you work with the community and other stakeholders? What steps have you taken to strengthen community relations over the past year?
We produce copper responsibly and profitably, putting people and safety first and working closely with our local communities to ensure that our mines are developed sustainably. Our aim is to work in partnership with all of our stakeholders to provide jobs, prosperity and opportunities to not just the local population, but Chile as a whole. Our belief is that this is the best approach to ensure our continued ability to deliver stable, long-term returns to our shareholders.
During 2016 we made an important step towards putting our relations with the Caimanes community at Los Pelambres on a sustainable future. We reached a settlement of the outstanding court cases concerning the Mauro tailings dam. As a result the Company is now proceeding with the plans agreed with the community and courts as regards the future water supply solutions, additional safety measures, community development projects, and to provide access to benefits for families in the community.
What will your focus for safety be in 2017?
Safety remains our number one priority. During the course of 2016 Antofagasta tragically suffered a fatal accident at Antucoya in April and a further fatality at our transport division in July. I, with everyone at Antofagasta, offer my sincerest condolences to the affected families and friends.
It is not acceptable that we still have fatalities and we are determined to achieve our target of zero fatalities. While overall our safety standards have improved I am redoubling our efforts to ensure that all of our employees and contractors live in a culture of safety every day. We are building on our programme of 2016, including enhancing our Critical Safety Controls verifications and "near-miss" incidence reporting. Our executive team continues to visit the Group's mining operations regularly as part of our safety leadership programme, demonstrating to employees and contractors the importance of safety and empowering employees to ensure safety comes first.
You speak to end users in key markets like China. What is your sense of prices for the year ahead and the outlook for 2017 and beyond?
I do meet our customers on various occasions during the year when I am in China or at the LME Week in London. What has surprised many over the last year, and particularly in the final quarter of 2016, was the uptick we saw in copper demand and the expectation that this would continue. This year has started strongly, bolstered by the continued improvement in sentiment towards copper and the production problems at some of the biggest copper mines. It seems that we are now in a reflationary environment and this is positive for commodities. As many continue to adjust their forecasts for China, we are confident that consumption there will continue to grow as they support their power and infrastructure requirements. The higher level of mine disruptions we are experiencing since the beginning of the year should keep pressure on refined copper availability and support the fundamentals for copper in the months to come. As a result we do not see copper returning to the lows of 2016.
Beyond that we expect to see a steady shift from a market in balance to a slight deficit, leading to a further improvement in prices. There are wild cards of course, but these are more likely to be positive for the copper price than negative. Potential higher demand in the US under the new administration is one, increased disruptions to supply is another.
But the key lesson our industry has learnt over the last few years, and one that Antofagasta has now embedded in the way that we do business, is that we must maintain our cost discipline through the cycle, not just at our operations but also in how and when we invest capital. Only by doing this will we ensure that our operations continue to generate cash, defend our margins and deliver sustainable returns for all of our stakeholders. This is why, as I look into 2017, my focus will continue to be on improving our operating efficiencies and reducing our costs sustainably while continuing to work on our options for growth. As I said at the beginning of our conversation, Antofagasta was established and grew quickly because of its entrepreneurial spirit, and I want to embed that dynamism and innovation further in the Company. What gives me optimism about the future is how far we've come over the past few years. Antofagasta is focused on the responsible production of profitable tonnes in a way that benefits all of our employees, communities, government, fellow citizens, and of course, our shareholders.
IVÁN ARRIAGADA
CHIEF EXECUTIVE OFFICER