Set out below are the Group's principal risks and related mitigation techniques.
Risk

Mitigation

Growth opportunities

 

The Group may fail to identify attractive acquisition opportunities or may select inappropriate targets.

The long-term commodity price forecast and other assumptions used when assessing potential projects and other investment opportunities have a significant influence on the forecast return on investment and, if incorrectly estimated, could result in the wrong decisions.

 

The Group assesses a wide range of potential growth opportunities, both internal projects and external opportunities. A rigorous assessment process is followed to evaluate all potential business acquisitions, which are subjected to different stress test scenarios for sensitivity analysis, and to determine the risks associated with the project or opportunity.

The Group's Business Development Committee reviews potential growth opportunities and transactions, and approves or recommends them within authority levels set by the Board.

Commodity prices

 

The Group's results are heavily dependent on commodity prices – principally copper and, to a lesser extent, gold and molybdenum. The prices of these commodities are strongly influenced by a variety of external factors, including world economic growth, inventory balances, industry demand and supply, possible substitution, etc.

The Group considers exposure to commodity price fluctuations to be an integral part of the business and its usual policy is to sell its products at prevailing market prices. The Group monitors the commodity markets closely to determine the effect of price fluctuations on earnings, capital expenditure and cash flows. Very occasionally, when it feels it to be appropriate, the Group uses derivative instruments to manage its exposure to commodity price fluctuations. The Group runs its business plans through various different commodity price scenarios and develops contingency plans as required.

Foreign currency

 

The Group's sales are mainly denominated in US dollars and some of the Group's operating costs are in Chilean pesos.

The strengthening of the Chilean peso may negatively affect the Group's financial results.

As copper exports account for over 50% of Chile's exports, there is a correlation between the copper price and the US dollar/Chilean peso exchange rate. This natural hedge partly mitigates the Group's foreign exchange exposure. However, the Group monitors the foreign exchange markets and the macroeconomic variables that affect them and on occasion implements a focused currency hedging programme to reduce short-term exposure to fluctuations in the US dollar against the Chilean peso.

Strategic inputs

 

Disruption to the supply of any of the Group's key strategic inputs such as electricity, water, fuel, sulphuric acid and mining equipment could have a negative impact on production. Longer term, any restrictions on the availability of key strategic resources such as water and electricity could affect the Group's opportunities for growth.

A significant portion of the Group's input costs are influenced by external market factors.

Contingency plans are in place to address any short-term disruptions to strategic resources. The Group negotiates early with suppliers of key inputs to ensure supply continuity. Certain key supplies are purchased from several sources to mitigate potential disruption arising from exposure to a single supplier.

Technological and innovative solutions, such as using sea water in the Group's mining operations, can help mitigate exposure to potentially scarce resources.

The Group also utilises several sources of non-traditional energy such as wind and solar power.

Operating

 

Mining operations are subject to a number of circumstances not wholly within the Group's control. These include damage to or breakdown of equipment or infrastructure, unexpected geological variations or technical issues, extreme weather conditions and natural disasters, any of which could adversely affect production and/or costs

Key risks relating to each operation are identified as part of the regular risk review process undertaken by the individual operations. This process also identifies appropriate mitigation techniques for such risks. Monthly reports to the Board provide variance analysis of operating and financial performance, allowing potential key issues to be identified in good time and any necessary actions, such as monitoring or control activities, to be implemented to prevent unplanned downtime.

The Group has Business Continuity Plans and Disaster Recovery Plans for all key processes within its operations in order to mitigate the consequences of a crisis or natural disaster. The Group also has property damage and business interruption insurance to provide protection from some, but not all, of the costs that may arise from such events.

 

Project management

 

Failure to effectively manage the Group's development projects could result in delays in the start of production and cost overruns.

The Group has a project management system consisting of standards, manuals and procedures containing the best practices applicable and enforceable in all phases of project development. The project management system supports the decisionmaking process by balancing risk versus benefit, increasing the likelihood of success and providing a common language and standards. All geometallurgical models are reviewed by independent experts.

During the project lifecycle, quality checks for each of the standards applied are carried out by a panel of experts from within the Group. This panel reviews each feasibility study to assess the technical and commercial viability of the project and how it can be safely developed. Detailed progress reports on ongoing projects are regularly reviewed, and include assessments of progress against key project milestones and performance against budget.

Political, legal and regulatory

 

The Group may be affected by political instability and regulatory developments in the countries in which it is operating, pursuing projects or conducting exploration activities. Issues regarding the granting of permits or amendments to permits already granted, and changes to the legal environment or regulations, could adversely affect the Group's operations and development projects.

Political, legal and regulatory developments affecting the Group's operations and projects are monitored continually. The Group operates in full compliance with the existing laws, regulations, licences, permits and rights in each country in which it operates.

The Group assesses political risk as part of its evaluation of potential projects, including the nature of any foreign investment agreements.

The Group monitors proposed changes in government policies and regulations and belongs to several associations that consult with the government on these changes. This helps to improve the Group's internal processes and better prepare it to meet any new regulatory requirements.

Identification of new mineral resources

 

The Group needs to identify new mineral resources to ensure continued future growth and does so through exploration and acquisition. There is a risk that exploration activities may not identify sufficient viable mineral resources.

The Group conducts exploration programmes both in Chile and in other countries. The Group has entered into early-stage exploration agreements and strategic alliances with third parties in a number of countries and has also acquired equity interests in companies with known geological potential. The Group focuses its exploration activities on stable and secure countries to reduce risk exposure.

Ore reserves and mineral resources estimates

 

The Group's ore reserves and mineral resources estimates are subject to a number of assumptions, including geological, metallurgical and technical factors, future commodity prices and production costs. Fluctuations in these variables may result in some reserves or resources being deemed uneconomic, which could lead to a reduction in reserves and/or resources.

The Group's reserves and resources estimates are updated annually to reflect material extracted during the year, the results of drilling programmes and any revised assumptions. The Group follows the Australasian Code for Reporting of Exploration Results, Mineral Resources and Ore Reserves ("the JORC Code") in reporting its ore reserves and mineral resources. This requires reserves and resources estimates to be based on work undertaken by a Competent Person, as defined by the Code. In addition, the Group's reserves and resources estimates are subject to a comprehensive programme of internal and external audits.

Community relations

 

Failure to identify and manage local concerns and expectations can have a negative impact on the Group. Relations with local communities and stakeholders affect the Group's reputation and social licence to operate and grow.

The Group has a dedicated team that establishes and maintains relations with local communities. These are based on trust and mutual benefit throughout the mining lifecycle, from exploration to final remediation. The Group seeks to identify early any potentially negative operating impacts and minimise these through responsible behaviour. This means acting transparently and ethically, prioritising the safety and health of its employees and contractors, avoiding environmental incidents, promoting dialogue, complying with commitments to stakeholders and establishing mechanisms to prevent or address a crisis. These steps are undertaken in the early stages of each project and continue throughout the life of each operation.

The Group contributes to the development of communities in the areas in which it operates, particularly through human capital development – the education, training and employment of the local population. The Group endeavours to communicate clearly and transparently with local communities, in line with the established Community Relations Plan, including the use of a grievance management process, local perception surveys, and local media and community engagement.

Safety and health

 

Safety and health incidents could result in harm to the Group's employees, contractors or to local communities. Ensuring their safety and wellbeing is first and foremost an ethical obligation for the Group, as stated in the Group Core Values.

Poor safety records or serious accidents could have a long-term impact on the Group's morale, reputation and production.

The Group is seeking continuous improvement of its safety and health risk management procedures, with particular focus on the early identification of risk and preventing fatalities.

The corporate Safety and Health department provides a common strategy to the Group's operations and co-ordinates all safety and health matters. The Group has a Significant Incident Report system which is an important part of the overall approach to safety.

The Group's goal of zero fatalities and minimising the number of accidents requires all contractors to comply with the Group's Occupational Health and Safety Plan. This is monitored through monthly audits and supported by regular training and awareness campaigns for employees, contractors, employees' families and local communities, particularly with regard to road safety.

Critical controls and verification tools are regularly strengthened through the verification programme and regular audits of critical controls for high potential safety risks.

Enviromental management

 

An operating incident that damages the environment could affect both the Group's relationship with local stakeholders and its reputation, undermining its social licence to operate and to grow.

The Group operates in challenging environments, including the Atacama Desert, where water scarcity is a key issue.

The Group has a comprehensive approach to incident prevention. Relevant risks are assessed, monitored and controlled in order to achieve the goal of zero incidents with significant environmental impact. The Group works to raise awareness among employees and contractors and provides training to promote operating excellence. Potential environmental impacts are key considerations when assessing project viability, and the integration of innovative technology in the project design to mitigate these effects is encouraged. The Group strives to ensure maximum efficiency in water use, pioneering the use of sea water for mining operations in the arid Antofagasta Region of Chile and installing capacity to produce thickened tailings at Centinela, thus achieving high rates of reuse and recovery.

Talent management and labour relations

 

The Group's highly skilled workforce and experienced management team are critical to maintaining current operations, implementing development projects, achieving long-term growth and preserving current operations without major disruption. Managing talent and maintaining a high-quality labour force is a key priority for the Group and any failures in this respect could have a negative impact on the performance of the existing operations and future growth.

The Group maintains good relations with its employees and unions, founded on trust, continuous dialogue and good working conditions. The Group is committed to safety, non-discrimination and compliance with Chile's strict regulations on labour matters.

There are long-term labour agreements in place with employee unions at each of the Group's mining operations, which help to ensure labour stability.

The Group seeks to identify and address labour issues that may arise throughout the period covered by existing labour agreements and to anticipate any potential issues in good time. Contractors are an important part of the Group's workforce and under Chilean law are subject to the same duties and responsibilities as the Group's own employees. The Group's approach is to treat contractors as strategic associates and its goal is to build long-term mutually beneficial contractor relationships. The Group maintains constructive relationships with its employees and the unions that represent them through regular communication and consultation. Union representatives are regularly involved in discussions about the future of the workforce.

The Group develops the talents of its employees through training and development, invests in initiatives to widen the talent pool and focuses on maintaining good relationships with employees, unions and contractors.

The Group's Employee Performance Management System is designed to attract and retain key employees by creating reward and remuneration structures and personal development opportunities. The Group has a talent management system to identify and develop internal candidates for key management positions, as well as identifying suitable external candidates where appropriate.

Corruption activities

 

The Group's projects or operations around the world may be affected by risks related to corruption or bribery, including operating disruptions or delays resulting from a refusal to make " facilitation payments". Such risk depends on the economic or political stability of the country in which the Group is operating.

The Group employs procedures and controls against any kind of corruption, including open channels of communication that any employee or external party can use in order to raise any concerns or complaints.

In addition, the Group has Ethics Committees (composed of senior executives) at each of its operations, responsible for investigating complaints and taking any necessary measures. They in turn report such investigations to the Corporate Ethics Committee, which decides whether any further action is required.

All employees in the Group receive training on the Group Compliance Model which is subject to external certification.

There are also control procedures in place that help to prevent corruption, covering such issues as conflicts of interest, suitability of suppliers, receiving and giving of gifts and hospitality, and facilitation payments.

Information Security

 
Breaches in, or failures of, the Group's information security management could adversely impact its business activities.
The Group's information security management model is designed with defensive structural controls to prevent and mitigate the effects of computer risks. It employs a set of rules and procedures, including a Disaster Recovery Plan, to restore critical IT functions.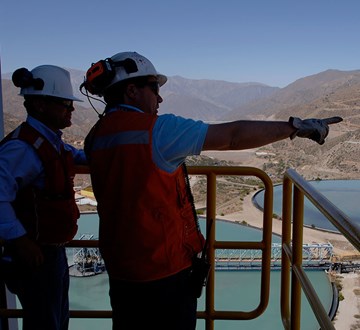 Related Information
Community Relations