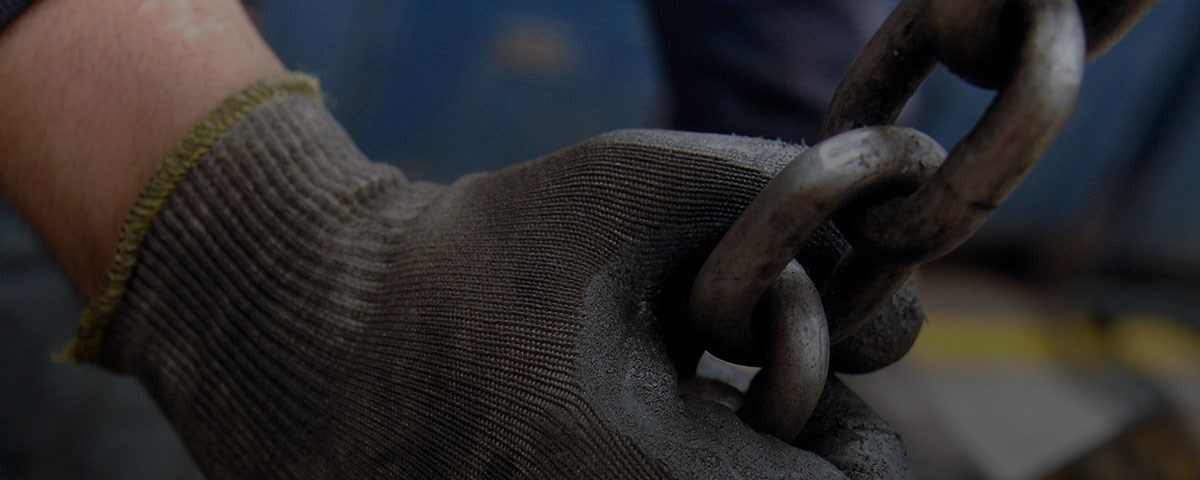 Our investment case is based on quality, focus and experience:
Quality of existing assets and growth pipeline, strong capital returns and a stable and favourable geography, all underpinned by our sustainable approach to development
Focus on copper and up-stream mining activities
Experience of our management team in the mining industry building on a track record of organic growth
Investment case – steady, stable and secure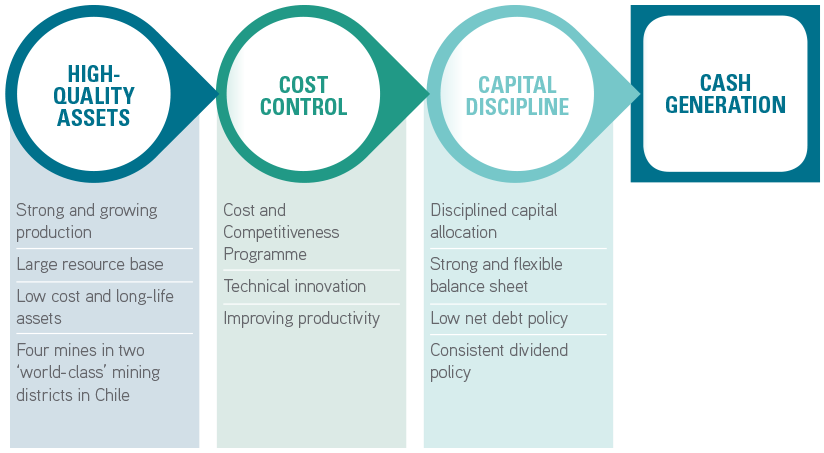 Net Cash/(Debt) (1)
$(1,072)m
Why it is important

Net Cash/Debt is a measure of the financial position of the Group.
Performance in 2016

Net Debt rose by $48.2m in 2016 as a result of new borrowings offset by higher cash generation.
1. Non IFRS measures, refer to the alternative performance measures in Note 39 to the financial statements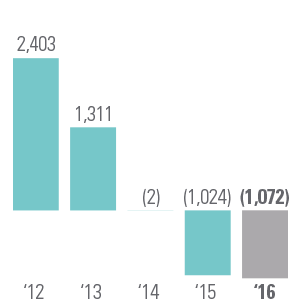 Ebitda*
$1,626.1m
Why it is important
This is a measure of the Group's underlying profitability.
Performance in 2016
EBITDA rose in 2016 as a result of higher production, higher realised prices and lower unit operating costs.
* Restated for discontinued operations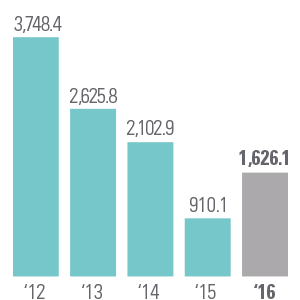 Earnings per share*
12.1 cents
Why it is important
This is a measure of the profit attributable to shareholders.
Performance in 2016
EPS rose due to higher profitability as production and realised prices rose, while operating cost fell.
* Restated for discontinued operations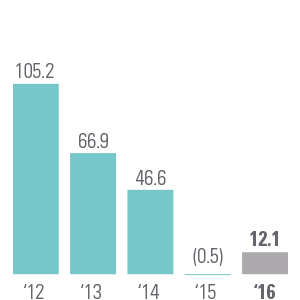 Copper production
709,400 tonnes
Why it is important
Copper is the Group's main product and its production is a key operating parameter. Includes all production from Los Pelambres, Centinela, Antucoya and 50% from Zaldívar.
Performance in 2016
Copper production increased by 12.5% in 2016, primarily due to inclusion of production from Antucoya and Zaldívar and improved performance at Centinela.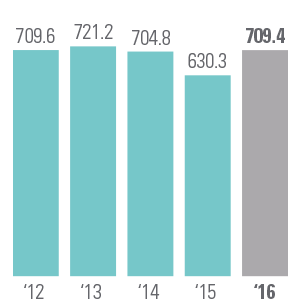 Net cash costs (1)
$1.20/lb
Why it is important
This is a key indicator of operating efficiency and profitability.
Performance in 2016
Net cash costs decreased 20.0% compared to 2015, reflecting cost savings, higher copper and gold production and lower input prices.
1. Non IFRS measures, refer to the alternative performance measures in Note 39 to the financial statements.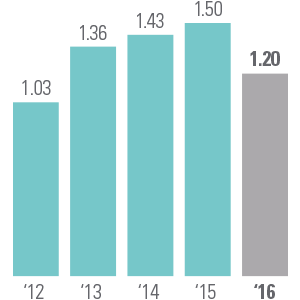 Mineral resources (2)
18.7 billion tonnes
Why it is important
Expansion of the Group's mineral resources base has supported its strong organic growth pipeline.
Performance in 2016
Mineral resources remained similar due to the incorporation of additional resources at Penacho Blanco and Mirador was offset by the closure of Michilla.
2. Mineral resources relating to the Group's subsidiaries on a 100% basis and Zaldívar on a 50% basis.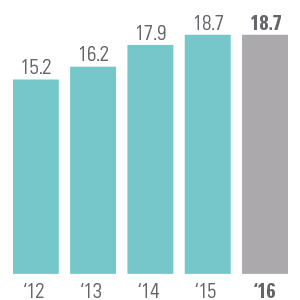 Lost time injury frequency rate (1)
1.5
Why it is important
Safety is a key priority for the Group, with the LTIFR being one of the principal measures of performance.
Performance in 2016
The LTIFR of the Group in 2016 declined to 1.5 accidents with lost time per million hours worked.
1. The Lost Time Injury Frequency Rate is the number of accidents with lost time during the year per million hours worked.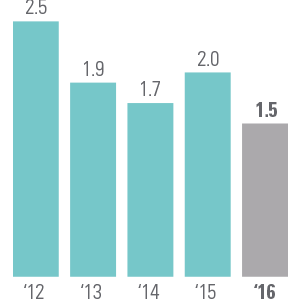 Water Consumption (2)
56.2m m³
Why it is important
Water is a precious resource and the Group is focused on maximising its efficient use and utilising the most sustainable sources as production grows.
Performance in 2016
Consumption of water increased during 2016, as two new operations were integrated into the Group, Antucoya and Zaldívar.
2. Water consumption relates to the mining division only.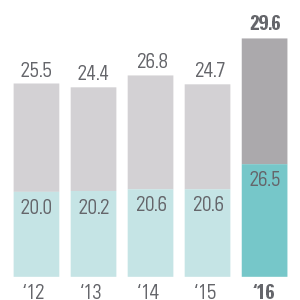 Emissions (3)
3.67 tonnes
Why it is important
The Group recognises the risks and opportunities of climate change and the need to measure and mitigate its greenhouse gas ("GHG") emissions. The Group is investing in renewable energy projects both to address rising costs and to mitigate climate change.
Performance in 2016
Carbon emission intensity increased from 2015 primarily due to higher copper production at the Group's operations.
3. Total CO2 emissions per tonne of copper produced. Data relates to the mining division only.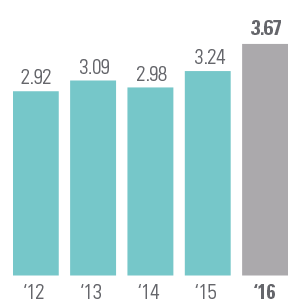 Existing assets
The majority of our production comes from large, long-life, low-cost mines. 90% of our copper output is from our Los Pelambres and Centinela mines, which have significant gold and molybdenum by-products, resulting in low net cash costs. This helps to ensure the strength of our operations throughout the commodity price cycle. The average remaining mining life of our existing operations is approximately 15 years, with scope to significantly extend this period with our existing mineral resource base.
Growth pipeline
The Group has a substantial organic growth pipeline, predominantly in Chile. The Group's mineral resources in the areas around its existing operations in the Centinela Mining District and at Los Pelambres provide the opportunity to firstly improve the useful life and utilisation of the existing assets, as well as providing the potential for major incremental volume growth. Antofagasta is also developing a longer-term pipeline of international growth opportunities.
Our growth opportunities assets 
Capital returns
Antofagasta has a consistent record of significant capital returns to shareholders, having distributed at least 35% of its net earnings as dividends in each of the past eight years.
Geography
All of our current mining operations and our largest growth projects are located in Chile – one of the world's most developed and stable mining countries.
Copper
We are a copper-focused mining company. All of our mining operations, projects and growth opportunities are predominantly copper assets, many of which contain by-products as well. Copper sales represent almost 90% of our revenues.
Up-stream mining activities
Our operations are focused on the core "up-stream" mining activities, as this is where we consider most of the value in the production chain is realised, and so we have no smelting or fabricating capacity within the Group.
Sustainability
Sustainable development forms an integral part of Antofagasta's decision-making processes and supports the achievement of our business strategy. Operating sustainably allows us to maintain our social licence to operate and to attract and retain talent.
The mining division has a social and environmental strategy that prioritises the health and safety of employees and the development of local communities, as well as protection of the environment through operational efficiency.
Management
The Group is led by Iván Arriagada, appointed as CEO during 2016. Iván is Commercial engineer and economist with over 20 years' experience in the mining, metals and oil and gas sectors.
Organic growth
Over the past five years, the Group has significantly increased the mineral resource base of its subsidiaries as a result of its own in-house exploration activities.
Read more about our exploration
We have a proven track record of successful project delivery – designing and constructing operations which maximise the value of our mineral deposits.