Our Approach
"Sustainability is an integral part of decision-making at each stage of Antofagasta Minerals' business life cycle. To this end, we identify risks, define policies and implement standards and management systems under the supervision of the Board through its Sustainability and Stakeholder Management Committee. "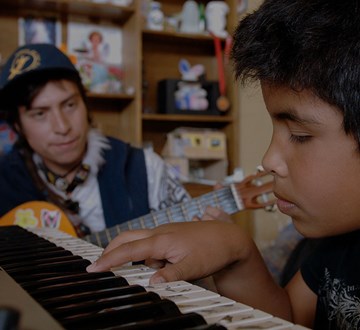 Related information
Material Issues, KPIs & Relationships
Governance
The Board is ultimately responsible for the Group's long term success. Its responsibilities include setting strategy, establishing policies and goals, monitoring economic, social and environmental performance, risks and internal control systems. The Board is supported by five committees including the Sustainability and Stakeholder Management Committee.
The Sustainability and Stakeholder Management Committee reviews and provides  recommendations to the Board regarding policies, strategies, guidelines and goals related to sustainability, including: occupational safety and health, environmental stewardship, human rights, communications, stakeholder engagement and communities. The Committee also ensures compliance with the laws, regulations and internal procedures. The Committees six corporate values form the foundation for Group decisions and business management.
The six corporate values are:
Respect
Safety
Health
Innovation
Excellence
Sustainability
Vision
For more information, please visit Board Committees
Our values and Code of Ethics provide the framework for how we manage and relate to Group employees, shareholders, authorities, communities, suppliers, partners and other stakeholders. We seek to be a Group that is recognised for honest business conduct, transparency and respect for human rights and the law.
The principles contained in the code of ethics are:
Respect for company principles and values
Compliance with laws and regulations
Prevention of conflicts of interest, corruption and bribery
Appropriate use of information
Ensure appropriate working conditions
Prevention of discrimination and harassment
Respect for human rights
Respect for communities, their traditions, customs and culture
No under-age employees
Fair wages, good accommodation and high health and safety standards
Good relationship with labour unions
Training and development opportunities
Monitoring employee satisfaction
Preventing discrimination, harassment or bullying
Ensure appropriate working conditions for contractors regarding health and safety, accommodation, wages and benefits
Prevention of corruption and whistleblowing procedures
Contributing to a positive social, economic and environmental legacy throughout the Group's business, from exploration to closure
Preventing and when not possible, mitigation environmental impacts
Respecting the rights, culture and heritage of local people
Identifying potential impacts
Early and ongoing community engagement from exploration to closure
Listening and responding to community grievances and other stakeholders
Supporting community development