Stakeholders have expectations and concerns regarding the Group's activities. We are developing a greater capacity to listen to our stakeholders and together develop solutions to their concerns. This will create value for the company, for Chile, for the communities we work alongside and other stakeholders.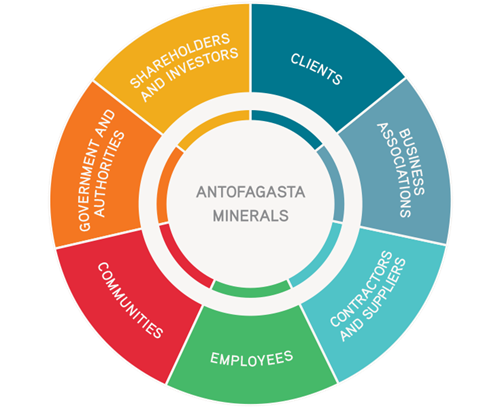 Shareholders
Antofagasta Minerals is wholly owned by Antofagasta plc, 65% owned by the Luksic family. The remaining 35% is held by financial institutions and private investors around the world.
Communities
We engage with around 45 communities, the vast majority of these in the province of Choapa. 
Clients
Approximately 80% of production is exported to Asia.
Employees
The Group has 4,586 direct employees, 59% of whom live in the regions of Antofagasta, Coquimbo and Metropolitana.
Central and Local Government
Includes the central and regional governments, public services and members of Parliament.
Contractors and Suppliers
4,448 suppliers of goods and services. Some 14,892 workers are contractors providing an important part of its value chain.
Business Associations 
Participation in councils and associations at regional, national and international levels allows sharing of best practices and to build alliances for the development of the business, the territories and the country.