CENTINELA
70% OWNED
Centinela was formed in 2014 from the merger of the Esperanza and El Tesoro mining companies. Centinela mines sulphide and oxide deposits 1,350 km north of Santiago in the Antofagasta Region, one of Chile's most important mining areas.
Centinela Concentrates produces copper concentrate (containing gold and silver) through a milling and flotation process, and Centinela Cathodes produces copper cathodes using a solvent extraction and electrowinning process SX-EW.
VISIT OUR WEBSITE FOR DETAILS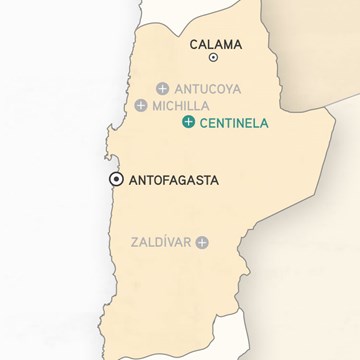 Remaining Mine Life
50 years
Operating performance
EBITDA at Centinela was $859 million, compared with $562 million in 2016, despite lower production and higher operating costs, as the realised copper price increased by 28% and the realised gold price rose by 2.1%.
Production
Copper production for the full year 2017 was 228,300 tonnes, 3.3% lower than in 2016 primarily as a result of lower recoveries and lower grades at Centinela Concentrates. This was partly offset by higher grades in the oxides line and the start of production at Encuentro Oxides. Copper in concentrate production for the full year was 163,900 tonnes, 9.1% lower than 2016, mainly reflecting slightly lower grades and the consequential drop in recoveries. Gold production was 157,000 ounces, 26.3% lower than in 2016. This was mainly due to lower grades and recoveries. Copper cathode production for the year was 64,500 tonnes, 15.6% higher than the previous year, as grades increased and Encuentro Oxides came into production in the last quarter of the year.
Cash costs
Cash costs before by-product credits for the year were $1.81/lb, 3.4% higher than in 2016, mainly as a result of lower copper production, higher input prices and the payment of a one-off signing bonus following the successful conclusion of labour negotiations with three unions at the operation. The essential terms of each of the labour agreements were standardised, allowing for the completion of the operational integration of Esperanza and El Tesoro, which began in 2014 when they were merged as Centinela. This completion of the integration will bring further improvements in operating practices at Centinela and will enable improvements in productivity.
Net cash costs for 2017 were $1.36/lb compared with $1.19/lb in 2016. This increase is due to the increase in cash costs before by-product credits and lower gold production. Capital expenditure was $578 million, including $192 million on Encuentro Oxides and the molybdenum plant and $264 million on mine development. Total project expenditure on the Encuentro Oxides project was $605 million, some $30 million under budget. Total capital expenditure in 2018 is expected to be $516 million, included approximately $280 million on mine development.
Production
Production for 2018 is forecast at 230–245,000 tonnes of payable copper, 130–140,000 ounces of gold and 1,500 tonnes of molybdenum, following the commissioning of the molybdenum plant early in 2018. While the grade at Centinela Concentrates will be lower than in 2017, Encuentro Oxides will reach full capacity during the year, contributing approximately 50,000 tonnes of payable copper.
Cash costs
Cash costs before by-products for 2018 are forecast at approximately $1.90/lb and net cash costs at approximately $1.50/lb.