LOS PELAMBRES
60% OWNED
Los Pelambres is a sulphide deposit in Chile's Coquimbo region, 240 km north-east of Santiago. It produces copper concentrate (containing gold and silver) and molybdenum concentrate through a milling and flotation process.
VISIT OUR WEBSITE FOR DETAILS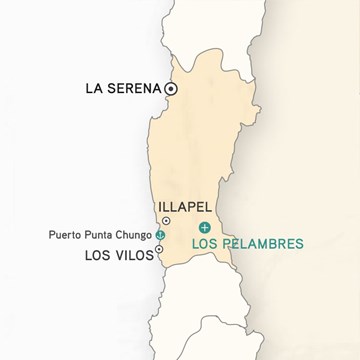 Remaining Mine Life
21 years
Copper Production
'000 tonnes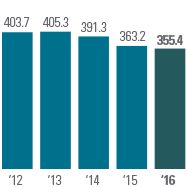 The expansion project has been split into two phases in order to smooth its progress, simplify permitting applications and spread the cost over a longer period.
PHASE 1
This phase is designed to optimise throughput within the limits of the existing operating, environmental and water extraction permits so that it will thus need only relatively simple updates. During this phase, Los Pelambres will operate at an average throughput of 190,000 tonnes per day with the addition of a new grinding and flotation circuit to mitigate the hard ore currently being mined, and a 400 litres per second desalination plant and pipeline. Desalinated water will be pumped to the tailings storage facility at El Mauro where it will connect with the recycling circuit returning water to the Los Pelambres plant.
The feasibility study estimate of the capital expenditure for this project is approximately $1.05 billion, with some $580 million allocated to the additional crushing and flotation circuits and the balance to the desalination plant and water pipeline. The expansion is estimated to increase copper production by an average of 55,000 tonnes per year over a period of 15 years.
PHASE 2
In this phase the Group will seek to increase throughput to 205,000 tonnes per day and to extend the mine's life beyond the currently approved 21 years. As part of this development a new EIA must be submitted to increase the capacity of the mine's El Mauro tailings storage facility and the mine waste dumps. The Group is preparing to commence the environmental baseline study for the EIA in 2017.