ANTUCOYA
70% OWNED
Antucoya is approximately 1,400 km north of Santiago and 125 km north-east of the city of Antofagasta, in Chile's Antofagasta Region. Construction of the project was completed in 2015 with full production achieved in 2016. Antucoya mines and leaches oxide ore to produce copper cathodes.
VISIT OUR WEBSITE FOR DETAILS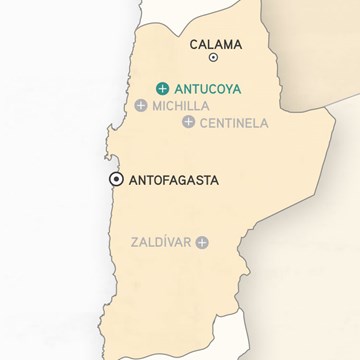 Remaining Mine Life
22 years
Operating performance
EBITDA at Antucoya was $207 million compared with $65 million in 2016, reflecting Antucoya's first year of operation at full capacity.
Production
Production was 80,500 tonnes of copper, 21.6% higher than in 2016, following the completion of the ramp-up in late 2016.
Cash costs
Cash costs for the year were $1.68/lb, 8.2% lower than in 2016, mainly because of higher production. Capital expenditure was $44 million, including $17 million on mine development.
Production in 2018 is forecast to be approximately 75–80,000 tonnes and cash costs are expected to increase to $1.75/lb. Total capital expenditure is expected to be approximately $57 million, which includes $22 million of mine development costs.