LOS PELAMBRES
60% OWNED
Los Pelambres is a sulphide deposit in Chile's Coquimbo region, 240 km north-east of Santiago. It produces copper concentrate (containing gold and silver) and molybdenum concentrate through a milling and flotation process.
VISIT OUR WEBSITE FOR DETAILS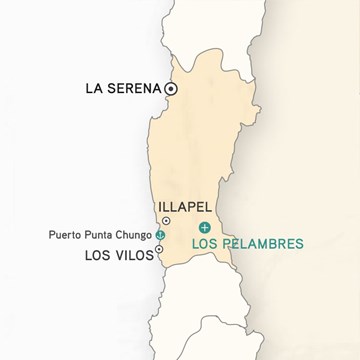 Remaining Mine Life
22 years
Copper
Tonnes (2014: 391,300)
(7.2)%
363,200
Gold
Ounces (2014: 66,500)
(22.7)%
51,400
Molybdenum
Tonnes (2014: 7,900)
27.8%
10,100
Copper Production
'000 tonnes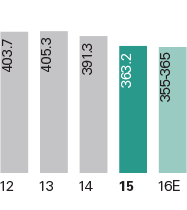 Net Cash Costs
(2014: $1.18/lb)
4.2%
$1.23/lb
Operating Profit
(2014: $1,337.8m)
(58.5)%
$555.0m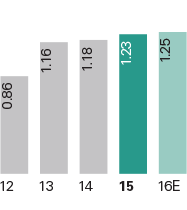 Los Pelambres Incremental Expansion
During the year, the Group revised the approach to the incremental expansion of Los Pelambres and decided to split the project into two phases to ease the development of the project and conserve development capital in light of lower commodity prices. This two-phase strategy was approved by the Board during the year and the feasibility study is now underway.
Los Pelambres Mining District – District potential
Given the size of the resource, which at 6.1 billion tonnes is more than three times the quantity of processed ore expected under the existing mine plan, there is significant scope to increase the plant capacity beyond the 205,000 tonnes per day planned for Phase 2 of the incremental expansion project. Such an expansion will require extensive engineering works and permitting as well as the support of local communities and currently no significant evaluation work is planned.