Overview
Social and economic benefit to local communities (jobs and opportunities for partnerships with local business)
Improved local infrastructure
Impact on environment (minimised as far as possible)
Benefit to wider society and industry (products are used in a wide range of sectors)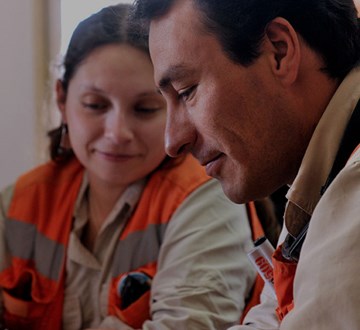 Related information
Business Model, Sustainability & Uses of Copper
Lost time injury frequency rate
1.98
Why it is important
Safety is a key priority for the Group, with the LTIFR being one of the principal measures of performance.
Performance in 2015
The LTIFR of the Group in 2015 was 1.98 accidents with lost time per million hours worked. One fatality was reported in 2015 and is not acceptable: the Group continues to target zero fatalities across all operations.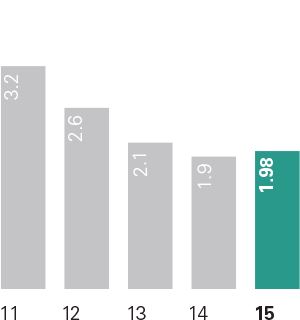 Water Consumption
45.2m m³
Why it is important
Water is a precious resource and the Group is focused on maximising its efficient use and utilising the most sustainable sources as production grows.
Performance in 2015
Consumption of continental water decreased during 2015, in line with the Group's efforts to maximise water efficiency.
Carbon Emissions
3.24 tonnes
Why it is important
The Group recognises the risks and opportunities of climate change and the need to measure and mitigate its greenhouse gas ("GHG") emissions. The Group is investing in renewable energy projects both to address rising costs and as part of its approach to mitigate climate change.
Performance in 2015
Carbon emission intensity rose from 2014 primarily due to lower copper production at the Group's operations.